live 9.7.5 max live and "this device not available in this version of live" what gives?
Hi Jondon,
When does this happen? with a specific demo song, or already when you drag in a EboSuite plugin?
Do you have a Max for Live license?
Cheers
Timo
it happens when I drag any ebosuite demo into a live track. I have the Max for Live application. Is that the same as having the licence?
My idea is that this is a general Ableton Live problem, not EboSuite specific.
Can you check if max for live is properly installed and up to date?
Do other max for live devices work?
See the screenshot below from Live's preferences: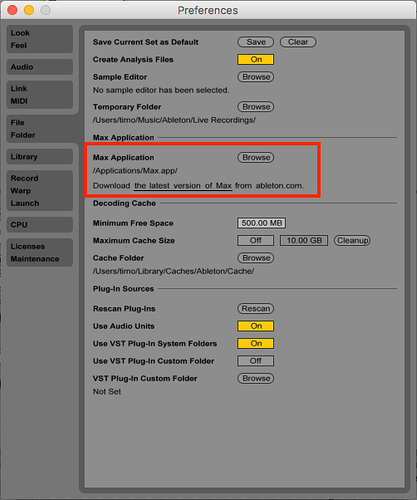 Use the 'latest version of max' link to get the latest version (or go here)
and make sure after downloading and installing the setting also refers to the version you just installed (not to e.g. Max 6.1)
Let me know if you need extra help here, we can also skype about it.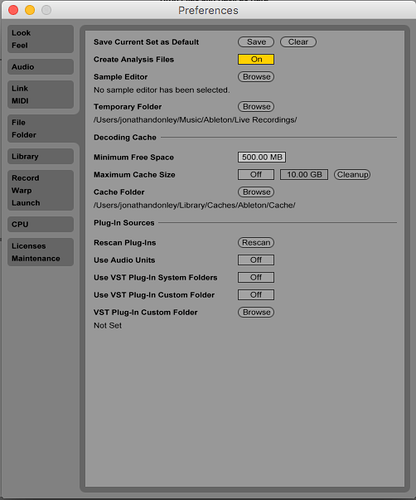 I have downloaded and installed but for some reason it doesn't show in my file folder. I could definitely use some help. Could it be because my version of Live is standard? Upgraded to Standard live 9 just for Ebosuite. Kind of bummed.
Hi Jondon,
Max For Live is not by default part of Standard. It is possible to add it to it though (see here).
Max For Live is by default part of Suite.
Max For Live it is not part of Lite and it is also not possible to add it to that version).
Was there some confusion when ordering at Ableton? or did you also purchase Max for Live and is there an issue with registration/activation?
thanks for your help. just upped my Live to suite. Now I have to buy a HAP converter? This will officially be the most expensive video program I own after I buy all the components…
Hi Jondon,
No, you don't have to buy a HAP converter. A HAP converter is included in EboSuite. It is called eConvert. With the eConvert plug-in you can easily convert your video files to the HAP codec and use them in EboSuite. We recommend to install the HAP codec (download here), so you can view the videos also with Ableton's standard video player (and e.g. Quicktime 7, not in the latest version). You can also batch convert video files using the AVF Batch Convertor that you can download for free here.
HAP is a video codec optimized for realtime video mixing, triggering and manipulation. That's why we choose to focus on this codec in the first release of our software. Soon we'll add support for more video codecs (that will be a free update of EboSuite).
EboSuite is aimed at people who already own Ableton Live. We appreciate that you bought Ableton Live just to be able to use EboSuite (wow!). Let us know when you have more questions, we love to help.